Deconstructing feedback
Hiyo from Bangkok!
I wonder what else could have made 2020 even more um... memorable. Anyhow, it could be worse?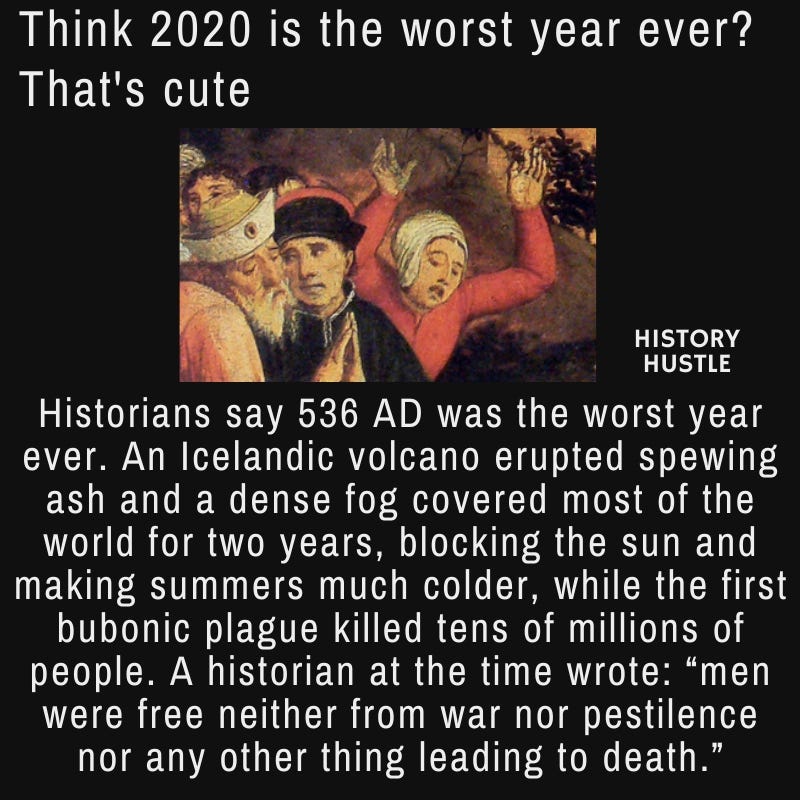 Source: https://www.facebook.com/HistoryHustle/photos/a.1718941751709144/2778006499135992
Deconstructing feedback
In an earlier newsletter, I wrote about deconstructing the feedback that you receive. Often, the feedback tells you more about the feedback giver than about you. When receiving feedback, it is hence useful to deconstruct the feedback into different buckets: the work, the receiver, and the giver.
This feedback deconstruction framework also helps you give better feedback.
When you give feedback, consider separating the work from the person doing the work. Feedback on the work tells the receiver about that particular work. Feedback on the individual tells the receiver about themselves. They serve different purposes and require different approaches.
Apply a single standard when you evaluate the work. If your goal is to consistently produce good work, the same evaluation standard should be applied to all pieces of work. For example, a software developer should apply the same criteria when reviewing others' code submissions to make sure that the code is up to standard throughout the codebase.
When it comes to giving feedback to an individual, adjust the feedback to the individuals based on their context. The goal is to help the receiver reflect on how they work. Giving a junior engineer the same feedback you would have given to a senior engineer might be premature and discouraging. Adapt your feedback to the receiver. Optimize for the usefulness of the feedback.
Lastly, you should be aware that certain pieces of feedback are more about you than the work or the feedback receiver. "Please submit a project proposal before the meeting" actually means you prefer to get the information from reading than listening. In that case, you can provide the context with the feedback, "I prefer reading to listening. Please submit a project proposal before meeting with me".
Still pondering on how to use this framework. Happy to hear feedback (lol) on it. :D
Fun-finds
I have been researching on how to bridge the gap between different ideologies and stumble upon Collective Debate from MIT Media Lab. Based on your moral matrix, the system guides you through a debate with an AI agent that tries to unpolarized your opinions. You can also read the interview with the student behind the project here.

Using robots to reduce loneliness in the nursing home. Make me wonder a little about what makes a "real" connection.
One question I am pondering on
How do you bring more joy into your everyday life?
---
Until next time!