Discover more from This Might Be Wrong
Pao's thoughts and ideas on matters of things
Quarantine and charming inconvenience
Hiyo from Bangkok!
Day 8 under state quarantine, I still haven't gone crazy yet. I got lucky. My hotel is in Bangkok, about a 30-minute drive from my house. My room is bigger than my bedroom in Brooklyn. My only complaint is the food. They fed us too well. After the quarantine, I will be in serious need of a diet.
Overall, I am grateful for all those who work hard to ensure that the state quarantine life is relatively comfortable. I am not an emotional person. Yet, when I got off the repatriation flight and heard a "Welcome back home, you are safe now", I felt something well up inside.
Charming inconvenience
We are not allowed to take any food beyond the meals provided three times a day. No KFC delivery. It's quite understandable. The government doesn't want you to get a food poison and call an army of PPE-ed medics to transport you to a hospital.
Luckily, at the hotel I am staying in, you can order packaged food from a nearby 7-11 through Line, a popular chat application in Thailand. Here is my purchase experience.
Not knowing what was available at the store, I asked for a list of inventory. I was provided with a real-time high-def view of available items.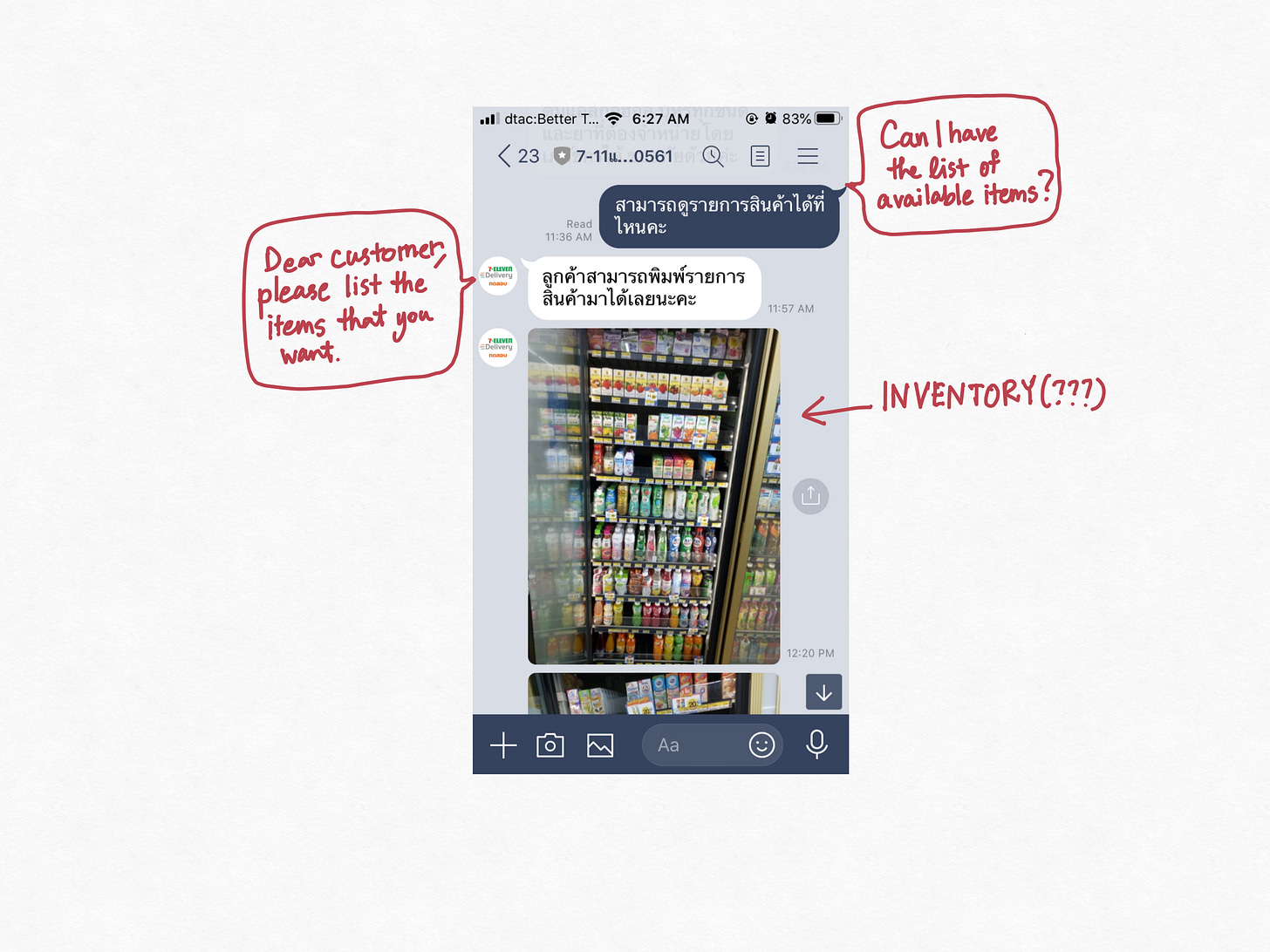 We had a few back-and-forths of "Do you have this?" If they didn't have a certain item, they would make a recommendation for you. Very convenient!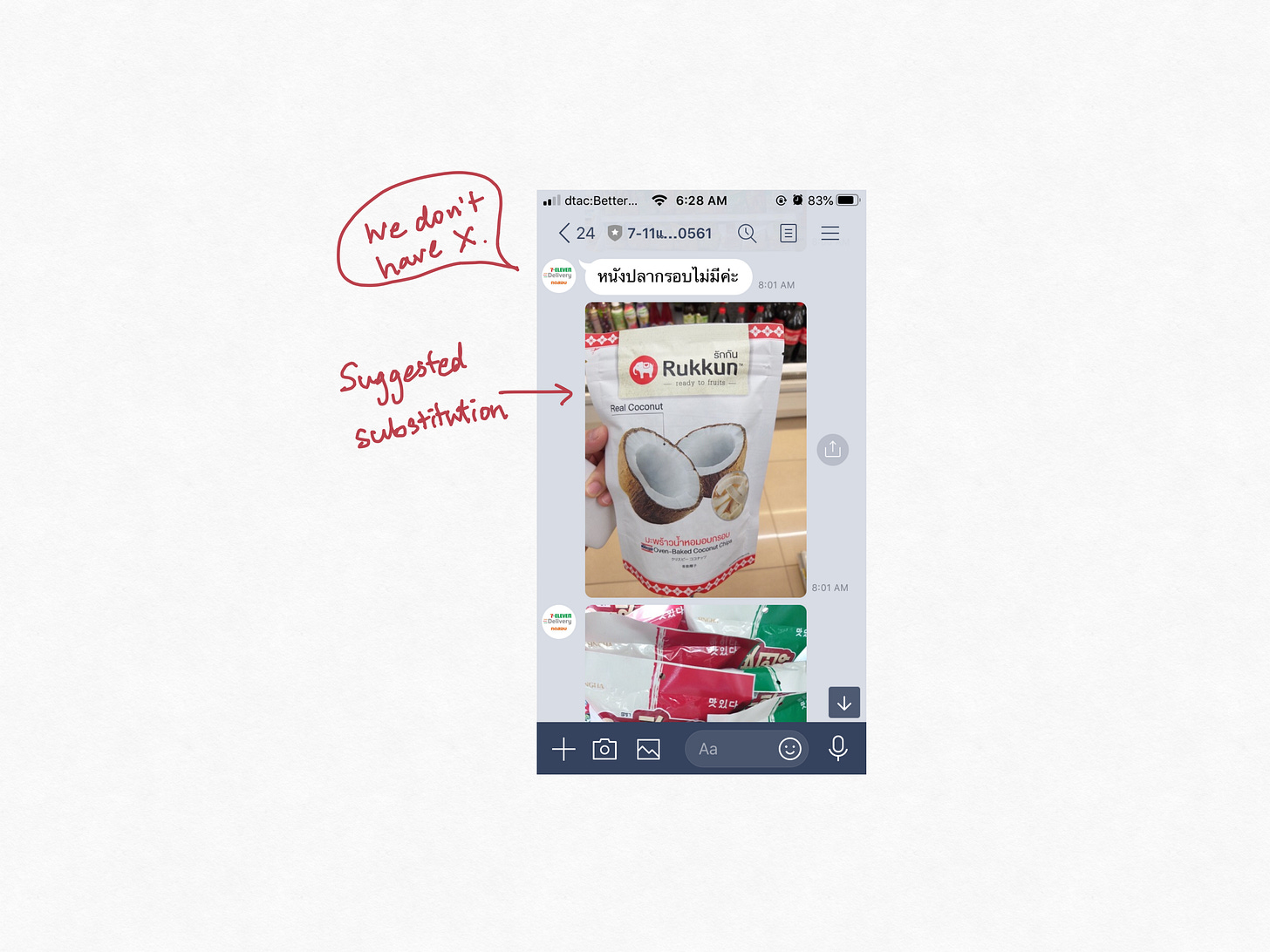 Then completed the transaction with cute thank-you stickers.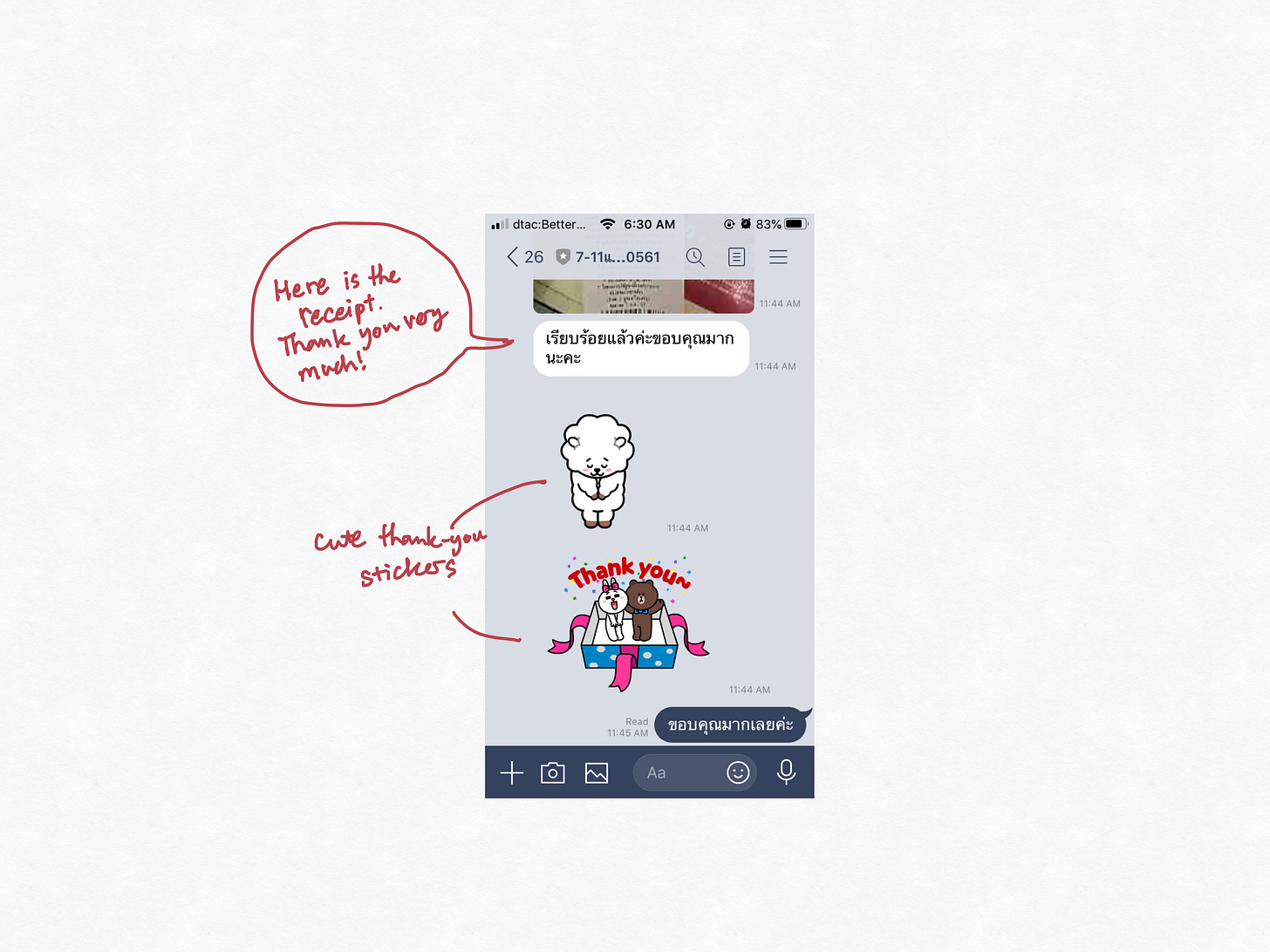 It took 5 days from my first query to the delivery. (I was not in a hurry). The experience was a far cry from AI-assisted shopping experience in Kai-Fu Lee's AI Superpowers. Instead of smooth experience facilitated by machine's knowledge about you, it gave you human-driven interactions ridden with typos and misunderstandings. We don't even have to bring AI to the table, a basic e-commerce site would have been "better" customer experience.
Yet, instead of getting frustrated, I find the whole experience enjoyable.
The transaction feels more direct. There is no obvious software layers between me and another human being. If I get stuck, I can just ask for help. There is no need to search for a hidden link to reach customer support. This IS the customer support.
This shopping experience was slow, imperfect, and inconvenient. It was oddly charming. It was human.
Random stuff
If you are bored with Zoom meetings, https://makespace.fun/

Why books? A seminar on books. :)
Hope that you have a great week. Until next time!