Discover more from This Might Be Wrong
Pao's thoughts and ideas on matters of things
Hamtaro, Harry Potter, and The Hunger Games
Hiyo from Bangkok!
Hope that you all are in good health. This weekend, I took an Aikido class for the first time in months. It was great to get on the mats again!
Hamtaro, Harry Potter, and The Hunger Games
Hamtaro is a Japanese manga and anime featuring a hamster named Hamtaro and his friends. Harry Potter is a fantasy series about a young wizard and his adventures. The Hunger Games is a dystopian young adult novel series where children have to kill each other in an annual game.
What do they have in common?
They are all stories targeted for children/young adults. They are also instruments of protests against the people in power in Thailand.
Hamtaro
A few recent pro-democracy protests had a theme around Hamtaro, a Japanese anime character. The protesters sang a song adapted from the original anime that mocks the government while passing around sunflower seeds snack.
Most of the participants are young. A lot of them are high-schoolers. For young people growing up watching anime on weekends, Hamtaro is relatable and out-of-political-context. The whole concept was so ridiculous that it works. More than a thousand showed up to the protest.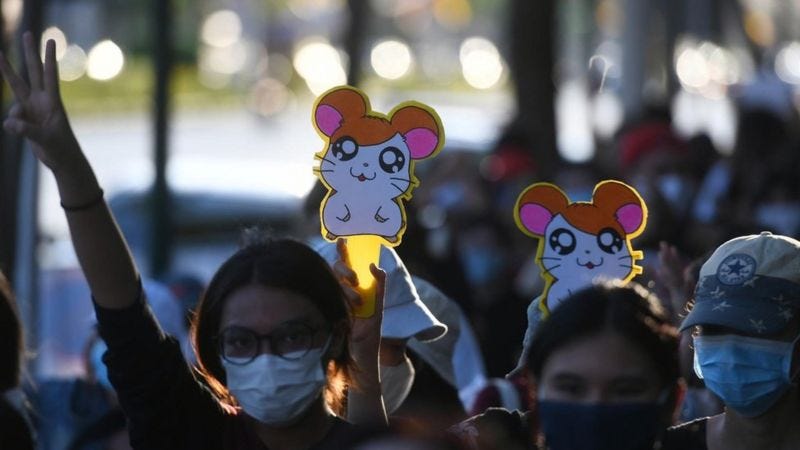 Image source: https://www.bbc.com/thai/thailand-53555953
Harry Potter
Last week, there was another rally under the theme Harry Potter-themed vs. You-Know-Who/He-Who-Must-Not Be Named, a clever poke at the freedom of expression in Thailand. The protesters want to discuss how to "allow the monarchy to exist in Thai society in the right way and legitimately under a democratic and a constitutional monarchy." It must have taken a lot of gut to say what the whole country dare not say.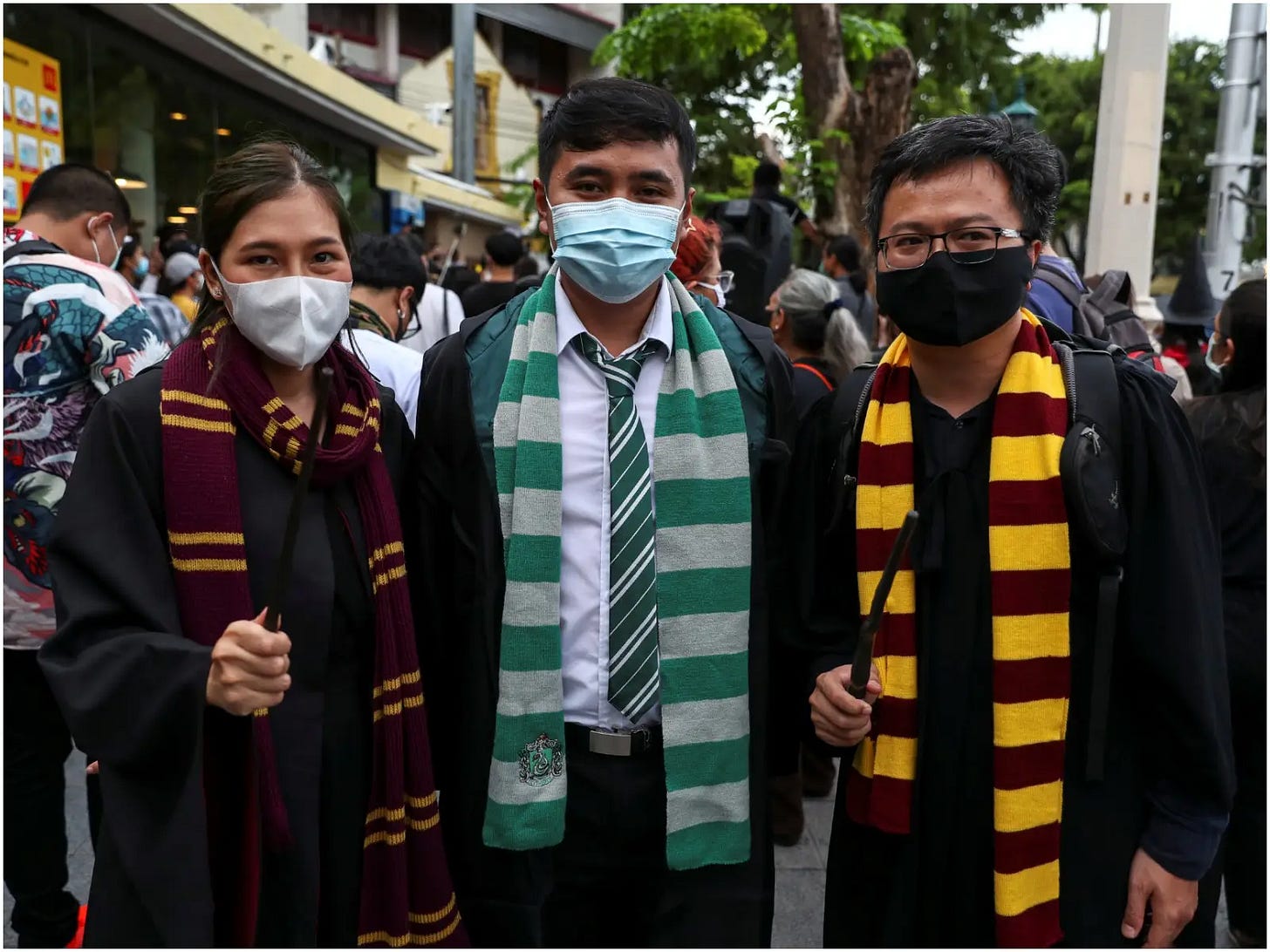 Image source: https://www.insider.com/thailand-protestors-harry-potter-themed-rally-thai-monarchy-2020-8
The Hunger games
Another trace of pop cultures in Thai protests. Protesters have adopted the three-fingered salute from The Hunger Games as a symbol of defiance against the state. The photo below was taken from my high school.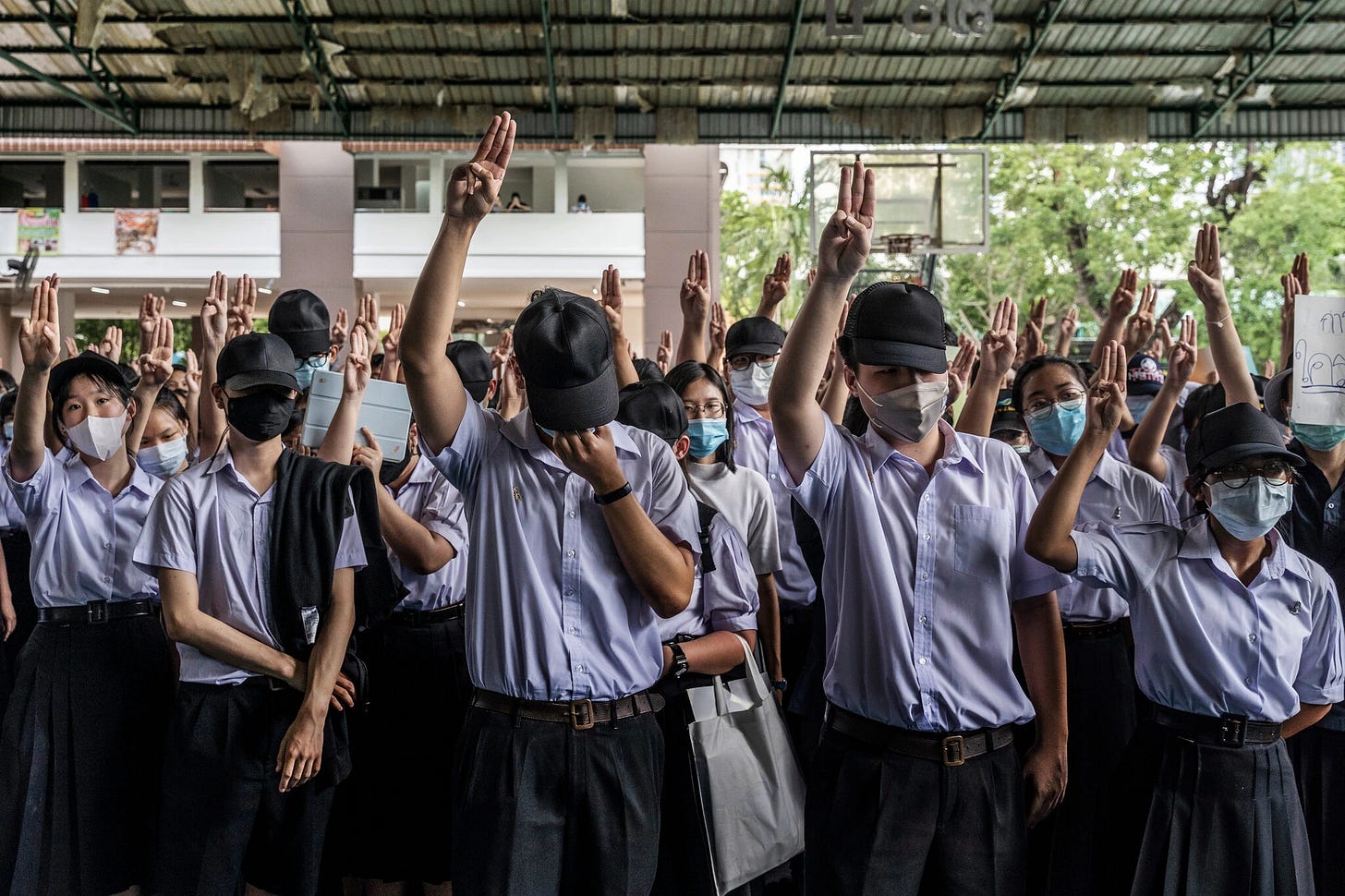 Image source: https://www.nytimes.com/2020/08/11/world/asia/thailand-student-protest-military.html
When the freedom of speech is repressed, people come up with creative ways to subvert it. For the young generations in Thailand, it is through pop culture and humor.
Hamtaro, Harry Potter, and The Hunger Games provide you with a way to talk about serious stuff without sounding serious enough to get you in trouble. After all, who is going to bring down a big hammer on a bunch of Hamster song chanters and Harry Potter cosplayers? (Actually, there is.)
Without getting too political more than I already am, I only hope that these young people are safe. When I was in high school, my only worry was studying to get good grades. Now, high-schoolers organized protests to express their discontent.
But I was also living in a different country. Then, we had a corrupted yet fair election process. I am not saying that Thailand should go back to where it was. The Thailand of the past has its downside. I hope we go somewhere better. We can't if we let them take away bright young people just because they speak their thoughts.
Fun-finds
---
Until next time!