Chinese Ghost Festival
Hiyo from Bangkok!
The Chinese Ghost Festival is coming up on September 2nd this year. My family (mother's side) opted to celebrate the Ghost Festival this past weekend for convenience.
Chinese Ghost Festival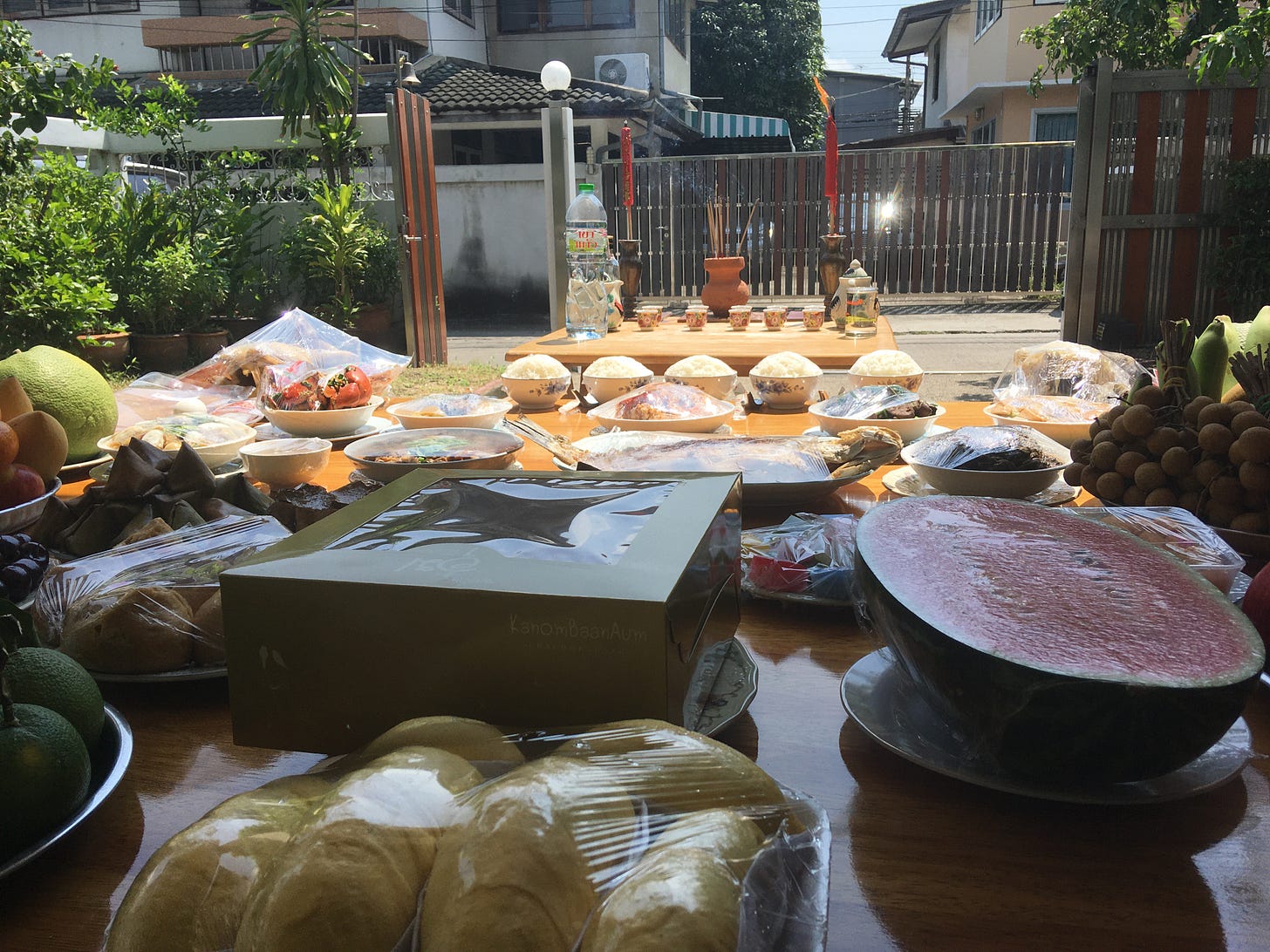 Apologize for this quirky photo. If you are interested in funding my photography education, please hit reply. ;-)
I don't even remember the last time I celebrated the Ghost Festival. When I started going to school, I went to school instead of taking a day off to welcome deceased ancestors. I only recall having lots of food at home once a year or so.
That is how I found myself asking a lot of questions. Why do we put Saran wrap over the food? To prevent the flies. Why do we partially wrap the food? So that the ancestors can take the food. Why can't they unwrap it themselves? ... Why do we have to refill the liquor when the incense sticks were half burnt? Why do we have 5 bowls of rice? Why five? What if the ancestors bring more friends?
At some point, my mom asked me to keep the questions to myself.
Unlike my dad's undeniably Chinese family, none of my mom and her siblings speaks Chinese. Their parents had changed their last name to a Thai-sounding one. I wonder what drives them to keep this tradition up. From an outsider's perspective, leaving cooked food in the open air for hours before eating it and burning papers sounds crazy.
I asked my aunts and uncles why they still celebrate the Ghost Festival. After all, if they believe in reincarnation, shouldn't all the deceased be reborn already? What is the use of offering food, (fake) money, and clothes if there is no one to receive it? They said dead people give the living an excuse to gather.
As long as it serves a purpose, the tradition continues.
Fun-finds
Study-with-me videos. I never know that it's a thing. Essentially, they are videos of people working and you can work "together" with them as the video plays. Here is one with 5.6 million views.

A video on 4 qualities of empathy

Perspective-taking

Staying out of judgment

Recognizing emotion in other people

Communicate that you recognize the emotion in others

8am Commutes. I would say the Bangkok one is not super representative. However, if you have to show real Bangkok traffic at rush hour, it is probably not much different from watching Paint Drying.
---
Until next time!